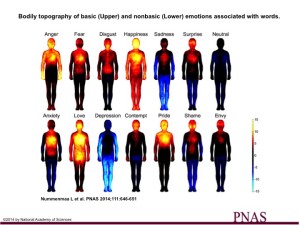 High stress brings about a number of problematic changes in the body. The increase in stress hormones and the well-known "fight or flight response"can create corrosive and inflammatory effects in the body over time. These effects have been associated with negative health effects.
Learning to notice when the body is under stress is part of lasting, effective stress management. For many people with chronic high stress, it takes a dramatic show-stopper like a migraine headache, or an upset  and painful stomach, or a third bout of flu-like illness in several months, to get the message that the body may be trying to say "No more" in its attempts for greater balance and health.
Instead of waiting for intense and painful symptoms before adjusting or creating a break in a chronically stressful schedule, another approach is to bring in greater awareness of what is happening both in the body and the mind.
Our thoughts and emotions naturally have an effect on the body. This should be obvious, since emotions are located in the body – yet some discussions both in science and in daily conversation makes it seems like everything is happening up in the head, or only in the brain. The body-mind connection is a strong one, with our emotions and thoughts having direct, immediate, as well as longer term effects on how we feel and on our health. Learning to notice where emotions are in the body, and which emotions cause what effects on our state, mood, and behaviors, is a major part of creating lasting stress relief and a more balanced, informed way to navigate through our busy lives.
Recent research has given us a new view of how we experience emotions in the body across cultures. Researchers in Finland had around 700 people in western Europe and East Asia create a colored map of the places they experienced basic and more complex emotions in their bodies. (Read the full National Academy of Sciences article here.)
The results were strikingly similar, even when considering language and cultural differences. The self-reported research results created a map of emotions in the body, with redder or warmer areas showing where people felt more sensation or heat during a particular emotion, and bluer areas showing where there was less sensation or activity when feeling an emotion.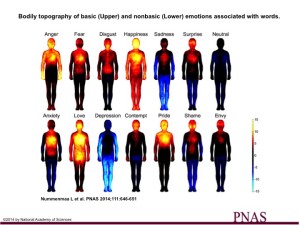 These research results suggest that we do experience emotions like anger, sadness, fear, and anxiety in similar ways across cultures and languages. This map or "atlas of emotions" as it has been called in several articles describing the research, can also give us a starting point for being more aware of the emotions underlying stress, for example. For some people, stress is more associated with anxiety; for others, high stress has to do with chronic fear, or frustration that can be simmering anger.
Becoming more familiar with the location of different emotions in your own body can help you notice sooner when stressful emotions are beginning to show up or build in the body as tension or an underlying feeling.  You can even participate anonymously in the ongoing research in Finland as one way to explore the different emotions in your own body – though fair warning to those in the U.S., you'll need to report your height and weight in cm and kg to do so!
Becoming more aware of where negative emotions or feelings associated with high stress show up in your own body, there are then more options to deal with stress and its effects. You can use deeper, slower breathing to activate the Vagus nerve and the relaxation response in the body. You can use clearing methods from Energy Psychology, like Emotional Freedom Techniques (or EFT), which I was happy to see Dr. Joseph Mercola mentioned right away in his review of the emotions map.
Greater awareness brings greater choice. Ramping up our awareness of where we feel emotions in our bodies – and the often automatic self talk and thought patterns that create those emotions – gives us the choice to stand down the fight or flight response often ramping up throughout the day, and allow the body to relax into experiencing without extra stress and discomfort.
Image courtesy of Lauri Nummenmaa, Enrico Glerean, Riitta Hari, and Jari Hietanen.