"Conscious Calm distills an amazing breadth of information into a readable, practical mini-manual. This is the must-read book if you want to bust stress and experience lasting calm and peace in your life."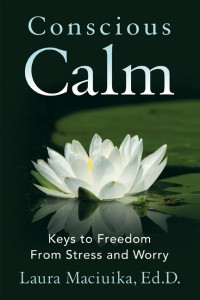 —Marci Shimoff, NY Times bestselling author of Happy for No Reason and Love for No Reason
Order your copy: Conscious Calm: Keys to Freedom from Stress and Worry
on Amazon in paperback or Kindle ebook. No need to own a Kindle to read the book on your tablet, computer, even your phone!
"Integrating Eastern wisdom with Western science, this book gives you step by step, clearly explained procedures to rid yourself of stress.  Dr. Maciuika is brilliant in the way she created simple, brief routines to enrich and enhance everyone's life.  This book is a must read for everyone and essential to those in the helping professions such as therapists, physicians, nurses, teachers and coaches."
— Cloé Madanes, author of Relationship Breakthrough and Strategic Family Therapy; President of the Robbins-Madanes Center and Robbins-Madanes Training.
Order your copy of Conscious Calm from Amazon here
"Combining the neuroscience of stress and emotions with leading edge energy psychology, Laura Maciuika presents simple step-by-step ways to reframe our minds to choose calmness. Conscious Calm is a gift to adrenaline junkies who create their own crises and anyone looking to reclaim their natural bliss—a wonderful book that can change your life."
—Candace Pert, Ph.D., Chief Scientific Officer, RAPID Laboratories; author of Molecules of Emotion and Everything You Need to Know to Feel Go(o)d.
In Conscious Calm you will discover:
*The 9 Secrets of how hidden stress traps keep you stressed out;
*The 9 Keys to help you finally experience lasting calm;
*How to put the brakes on endless worrying;
*5 stress-busting skills you can use any time;
*How to recognize and clear static in your emotions to have greater clarity and control in your life.
Order your copy from Amazon.com in the U.S., or ask for Conscious Calm at your favorite independent bookstore. You can also order from BarnesandNoble.com.
Outside the U.S. you can order from Amazon internationally, or order through The Book Depository and get shipping to anywhere in the world at no charge.
"While this book could be a textbook to learning about how stress works, it is so practical, its greatest gift is as a guide to real actions anyone can take. We should all keep a copy close at hand. I will."
— Rev. Angel Kyodo Williams, author of Being Black: Zen and the Art of Living with Fearlessness and Grace
"Conscious Calm is like the handbook to the brain, body and emotions no one gets when they 'grow up'.  I wish I had this book when I turned 13.  I am sure that I will continue to go back to it for years to come."
— Sheela Bringi, musician, www.shebrings.com
Get your copy of Conscious Calm and learn the Keys to lasting stress relief.
If you would like to order a signed copy inscribed to a friend or family member, click here.
—————————————