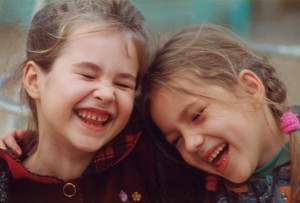 Since today would have been Lucille Ball's 100th birthday, it's only fitting to consider the power of laughter in stress relief.
When is the last time you laughed, hard? Was it just earlier today? Or a couple of days ago? With high stress, it's pretty easy to get serious and worried. Playfulness and stress usually do not go together. Neither do laughter and stress.
But especially if you're feeling high stress given the complicated economic picture, or with other family or work stress, it's important to keep in mind the health effects of laughter. Laughter feels good for real reasons.
In the moment, laughter helps relax muscles in your face that may have been scrunched in a furrow or frown. It helps relax muscles across your chest and belly that may have been tight from too much "stress breathing." Laughing can lengthen your breath again after you may have been breathing in in with tight, shorter breaths.
In the long run, laughter can help boost your immune system, improve your mood, and keep stress at bay.
Part of the reason this works is that laughter shifts us out of tension-creating mental story lines. When we are laughing, it's hard to worry. When we burst into laughter, we just can't hold onto the internal talk track that may have been heading down a stressful road, stirring up negative feelings and making us feel worse.
Laughter interrupts stress-producing thinking. It makes life easier. And more joyful. And more fun.
In honor of Lucy's 100th birthday, make some time to watch an I Love Lucy rerun. Maybe that one with her working at the chocolate factory. Here's a clip for a laugh right now.