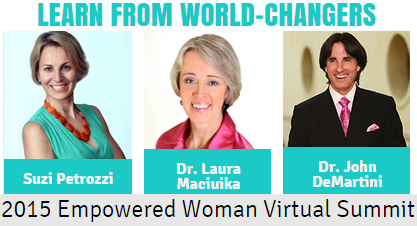 I'm happy to have been invited to speak at this year's Empowered Woman Summit.
This free, online Summit is designed to help professional and entrepreneurial women "Get Clear, Take Charge, and Make it Happen!" Whether you want to get motivated and get moving at work, in your business, or in other parts of your life, this Summit is designed to help and support you.
My friend and colleague, speaker and wellness expert Suzi Petrozzi, put this exciting Summit together. I'm one of 14 guest experts, and I'll be speaking on "It's All in Your Mind-Body: Empowerment from the Inside Out." 
See the full speaker list (it's impressive! It includes John Demartini, Maribel Jimenez, among many others), and reserve your free spot right here: Reserve My Seat! 
If you can't be there at the time of your favorite speakers and topics, you'll get a link sent to you with the replay information – free replays will be available for a limited time.
Join me for this exciting event and get things moving at the next level!